What a year! 
---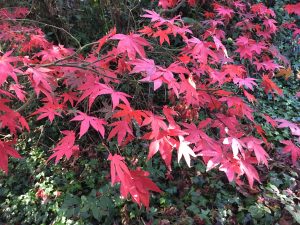 From frost on rooftops out our windows (San Francisco – frost?) to the vivid red maple blooming in front of our home, we continue to appreciate life and beauty!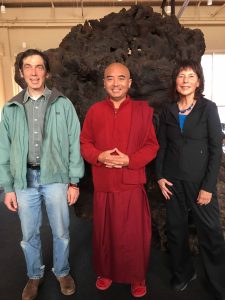 Kathryn
: I am still leading the Feldenkrais program for adults with severe neuro-motor challenges at Bay Area Ability Now and also co-leading a weekly meditation practice group for Tergar International on Sunday mornings, with my colleague Cristian Lotito—something I've done weekly since April 2020, and monthly in person before that. The photo shows me with Cristian and Mingyur Rinpoche, Tergar's Founding Teacher.
Kathryn: This year I began my studies with Upaya Zen Center in a unique 2-year chaplaincy training program that serves not only individuals, but also communities and the world. It is based in caring about the value of Buddhist principles for living, systems perspectives regarding social change, and intentions to nourish healthy community and society. For years my books and professional work have focused on creating healthy organizations for a healthy world: This brings a new community and new approaches.
I was drawn to the work of Roshi Joan Halifax (photo left) several years ago, and I am delighted to be able to study with her "in person" on zoom. (You can see my small face on the zoom insert above her head.)
My study of the chaplaincy grows out of all my previous work with organizations, leadership, and meditation. To get a sense of what I wish to nourish in the world, enjoy reading my most recent article "
How generative mindfulness can contribute to inclusive workplaces
", published in the
Humanistic Management Journal
last December (
read the article
). As my co-authors and I wrote, "Humanistic management and mindfulness practices can potentiate one another to foster an inclusive society. By moving beyond a limited instrumental understanding of mindfulness practice to a generative mindfulness that incorporates a recognition of the rich nature of the human mind, awareness of cultural practices, and deeply rooted ethical foundations, managers can create organizational cultures that honor the sacred in every human being."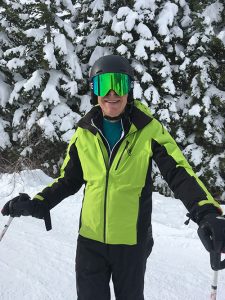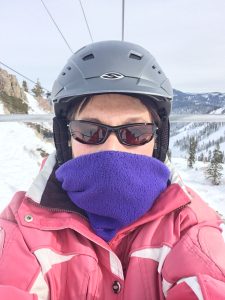 Jim/Sky: It's been mostly-sunny days this week on the ski slopes near Lake Tahoe, and we're happy that we're both skiing — at least on the fair-weather days. (Temp 36°F day and 18°F night)
Despite a ski injury last January, Kathryn has continued skiing and loves it — as she has for many years. These photos of us were taken yesterday!
Jim/Sky
: Kathryn also got to visit with her sister Susan Amber Gordon on the East Coast, despite our lessened eagerness to travel since the start of the pandemic.
---
Play It Again
Jim/Sky: In 2022 I started producing my feature-length film Play It Again about "Coming home to music." I'm personally an extreme example of this. For me the coming back started in 2014, then accelerated to full tilt in 2015-2016 at The San Francisco Conservatory of Music, where I completed a full-time post-graduate year in Technology and Applied Composition. At that time, I had already been thinking about making a film about the experience, but there just wasn't time to complete the coursework and do a film at the same time. So in February, 2022 I finally started filming. An intermediate full-length cut of the film is completed now (December, 2022) and with the filming of one more scene in January, we will have it all "in the can."
When I went back to music in 2015 I said that "software had caught up with us" and was finally enabling a new breed of composer and compositional process — with sampled instruments it had become possible to compose and play back in real time at good quality — a new cyclical compositional process much like software development. Well by 2022 it was obvious that iPhone hardware and software were advanced enough that "filming" could be similarly streamlined and available to far more would-be producers. So I became one of those. The film is almost entirely shot on iPhone with wireless sound recording right into the camera as well. Sign up for more film info!
My film will be available in February, 2023, and if you visit the Play It Again web site, you can sign up there for email notification.

(The space above is where the intro video should appear. It may be empty if you have opted out of 'statistics' cookies. You may play the introductory video on Vimeo)