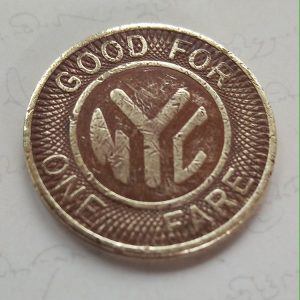 Our house doesn't exactly have a basement, and the closest thing to it is a space officially designated "crawlspace" beneath the kitchen, but with a high ceiling — where we store a lot of stuff that doesn't have an otherwise-designated storage location. Like old vinyl records. Like two old Macintosh computers (one is a Mac Classic). Like boxes that we received that we think maybe we'll use again (but honestly we won't). Like 300 plastic forks and knives from a picnic years ago. And dozens of ethernet cables, wall-wart power supplies, telephone cords (what's a telephone cord anyway?), and even a few little electronic gizmos that are entirely unopened and unused, which I never saw before, and can't guess why we have them in the first place.
There's a T.I. Speak-&-Spell device from 1980. And among the buried treasure — actual physical copies of many of our DesignWare products for personal computers in the 1980s. I also found a box of goodies from a company I helped form that went bust in 1997. And another box of desk goodies from Knowledge Universe Interactive Studio, 1999. And two boxes of Leapfrog toys from year 2000. Most of these still function.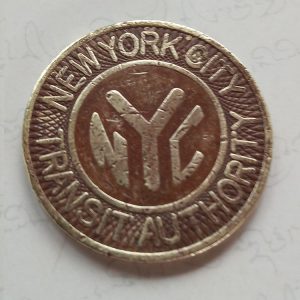 But also, in cleaning that space today, I found this on the floor. From historical documents it appears to be vintage 1980-1985. I remember the old punched-out tokens, but this one doesn't have the "Y" punchout. I don't know it's provenance, although I was in New York many times in the early 1980s, working with publishers and media companies. So it may have been in my pocket upon return to San Francisco from one of those trips. But, of course, it never made it into a final turnstyle, and never will again, as the MetroCard entirely took over as the currency for transit fares in 2003.
I'll add this token to my storehouse of RFID cards (which includes a paper MetroCard from 2018).
And this token is still "GOOD FOR ONE FARE" on the memory train!