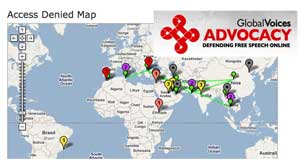 ·GlobalVoices ADVOCACY has a page they call the Access Denied Map. On it they track visually, including pop-up annotations, countries that prohibit access to web sites.

The thing that made the biggest impression on me is the number of countries that block bloggers or Flickr. (You can check this yourself by going to their site and clicking the pushpins on their Google map.)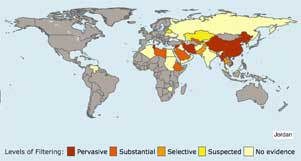 ·Opennet.net also tracks blocking/filtering worldwide. They look at the reasons given for filtering and compile maps tracking four different types of filtering.
Political content (illustrated at right) – Content that expresses views in opposition to those of the current government, or is related to human rights, freedom of expression, minority rights, and religious movements.
Social content – Content related to sexuality, gambling, and illegal drugs and alcohol, as well as other topics that may be socially sensitive or perceived as offensive.
Conflict/security – Content related to armed conflicts, border disputes, separatist movements, and militant groups.
Internet Tools – Web sites that provide e-mail, Internet hosting, search, translation, Voice over Internet Protocol (VoIP) telephone service, and circumvention methods.
---
Reference: UN International Covenant on Civil and Political Rights (ICCPR) and commentary
Article 19:

1. Everyone shall have the right to hold opinions without interference.

2. Everyone shall have the right to freedom of expression; this right shall include freedom to seek, receive and impart information and ideas of all kinds, regardless of frontiers, either orally, in writing or in print, in the form of art, or through any other media of his choice.

3. The exercise of the rights provided for in paragraph 2 of this article carries with it special duties and responsibilities. It may therefore be subject to certain restrictions, but these shall only be such as are provided by law and are necessary:

(a) For respect of the rights or reputations of others;

(b) For the protection of national security or of public order (ordre public), or of public health or morals.