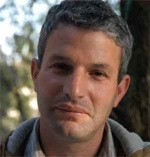 The phrases last mile or last mile problem refer to the way network connectivity is brought from the telephone central office (or other connection point) to a subscriber's home or business. For telephones, this used to be the pair of copper wires that ran from the central office, where the switching equipment lives, to the home, where the subscriber lives. Today, of course, it could refer to cell phone towers (which use radio), cable TV lines, fiber-optics or lots of other types of circuits.
Friends have suggested to me that it's useful to pivot, face the other way, and think of this as a first mile problem instead. And for yet another perspective, the folks at AirJaldi call it a beyond the first mile problem.The AirJaldi Summit took place in 2006. But AirJaldi itself, as an organization, is far more than just a one-time meeting. It aspires to be a model for disseminating Internet connectivity to places commercial carriers will never venture. Using open-source software, modified and loaded into wi-fi routers equipped with battery backup, solar power (in some cases), armored against the weather, and connected to high-gain antennas, AirJaldi has constructed a model network that spans 70km and connects thousands of users' computers to the Internet.
I talked with Mikey Ginguld, who has just taken a full-time role as acting CEO/COO with AirJaldi, about how they're doing it.
---
Play the interview:
Your browser does not support the audio tag.
---