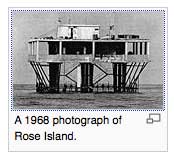 I was browsing the history of Esperanto and discovered Rose Island, a micronation in the Adriatic Sea that declared itself the Republic of Rose Island in 1968. (And whose official language was Esperanto.)
Apparently there have been any number of these escapades, including, of course, pirate radio broadcasters off northern Europe. The story of Sealand is especially entertaining.
Gotta read up on them.
The photo is from Wikimedia Commons and has been released into the public domain by its copyright holder. Click for a larger view.