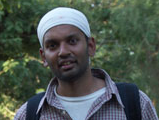 Nipun Mehta as pictured

on his blog
I can't believe that I've been blogging so long, and have never blogged Nipun Mehta. It's time to start making amends…
I'm going to start by pointing you at an audio interview that Michael Lerner of The New School conducted with Nipun earlier this year.
In April 1999, Nipun and three friends started Charity Focus as an "experiment in generosity."
"None of us had ever run an organization. We just said 'we wanna help.'We went to a homeless shelter and said 'how can we help?' And we ended up building them a web site."
"We had a brochure … meant for nonprofits … to introduce them to the Internet. This is one manifestation that seems to work. We said the price is going to be zero, and the response was fantastic."
"People … respond to … raw generosity."
Here's a short excerpt (the first two minutes) to get you interested:
| | |
| --- | --- |
| Open the audio player: | [audio:/wp-content/uploads/2007/09/Nipun-Mehta-New-School-excerpt.mov] |
Michael Lerner of The New School (…Ecology, Culture and the Inner Life, at CommonWeal.org) interviewed Nipun Mehta in April 2007 near the ninth anniversary of the founding of CharityFocus.org. You can find the entire [one-and-a-half-hour] audio interview The Invisible Revolution of the Inner-net, at CommonWeal's New School audio archives on their web site.
[Re-posted to correct formatting errors]