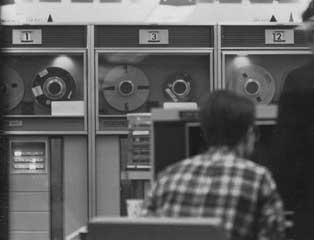 I was alerted to the presence online of a transcript of an "online computer conference" I organized in late 1973 when I was a professor at Northwestern University, and running my project called Computers And Teaching [CAT]. Murray Turoff, who was with the (US) Office of Emergency Preparedness had been running conferences limited to government participants, and Bob Johansen (while a graduate student) and I got the idea of doing a conference that would combine physical presence and remote presence, which we held in November, 1973. The PLATO-IV system, of course, had included its own internal online conferencing (serving maybe a couple thousand people at the time), but that was limited to people with PLATO terminals. Our goal was to expand conferencing well beyond that group by using an interactive system I had built.
Online_Computer_Conference_in_1973 (PDF) contains the transcript of this 1973 online conference. (The PDF has been saved in the ERIC system for 43 years. Thank goodness for government-sponsored ed research archives.)  If you notice the timestamps on the messages, some interchanges were in real time and many were asynchronous. The time-independence of the conference did actually confuse some of the participants because it was such a new concept. (And I had not implemented many of the commonsense conference components you'd find in a modern system.)
At the time I had a Texas Instruments thermal "TTY" style terminal I used at home on a separate phone line installed for the dial-up modem. The terminal belonged to my project and was well beyond anything an individual would have at home. IT was portable in the sense that it had a cover and handle like a big suitcase — and weighed maybe 25 lbs. I also had another dozen CRT style terminals in my lab at the university. And one terminal in my office. A true luxury in those days.
The online conference transcript displays messages in chronological order. Several participating locations had multiple human participants. Particularly Resource One (a community computing center in San Francisco) and the University of Michigan. Participants had to dial in to the main computer and could type while online, so this was an expensive process. To cut the connect time, a couple of locations batched their comments locally, then uploaded them by connecting their computer to ours. You might call this a precursor of email. My recollection is that Arpanet was young in those days, being one of the first networks to include email as a basic capability. PLATO-IV had its equivalent of email in its notes program, which allowed people to create threaded discussions.
Participants in the local conference were:
Chuck Zemeske, Rich Kusnierck, Diane DeBartolomeo, Maggie Mulqueen, Beverly Friend, George Dorner, Bruce Breuninger, Richard Greene, Michael Luisi, Paul G Watson, Judy Gottsegen, Kathleen Weibel, Leonard H Freiser, George Hagenauer, Darleen Hodges, Ken Davis, Mary Fisher, Peter Lykos, Patricia Rist, T. P. Torda, Ken Jarboe, Jim Boland, Margaret Crook, Susan Kom, Marion Legien, Ben Mittman, Bert Liffmann, Andrew Clement, James H Roll, Robert M Pasen, Ken Novak, Elizabeth Munn, Kenneth Silber, Noel McInnis, Tom Jolie.
Long distance online participants included:
Karl Zinn (University of Michigan CRLT Center for Research in Learning Technology), Ken Novak (University of Michigan, and The Couzins Machine), Lee Felsenstein (then of Resource One in San Francisco and Berkeley CA),  Gordon B. Thompson (Bell Northern Research), Kirk Brainerd (SMAX), Bert Liffman, Bob Armstrong, Bob Johansen (already at Institute for the Future in Menlo Park), Chris Macie, Efrem Lipkin, Fred Moore, Mije Murname (Memo from Turner), Alison McDonald (Center for Innovative Education), Colin Campbell, Michael Rossman (then unaffiliated), Fred Moore (Menlo Park), Tom Deeds (Graduate Theological Union, Berkeley), Dave Kaufman (Peoples' Computer Company, Menlo Park), Al Adler.
Organizations represented:
Northwestern University, Harper College, Whole Earth Store, Center for Curriculum Design, Governors State Univ, American Friends Service Committee, Chicago Public Library, National College of Education, The Learning Exchange, Illinois Institute of Technology, DePaul Univ. Library, Harper College, and others mentioned above from the online exchange.