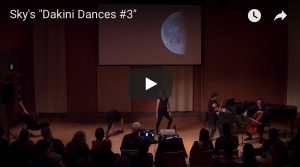 Hey I put some video up after our June 2nd concert and yesterday I noticed there's a copyright claim filed against one of my videos. Sony thinks they own the "song." Yes, they refer to everything as a song. Pretty funny that they think they own my song, considering everything is new music in the clip. What did I discover that made me double over laughing? Here (below) is the portion of my recording they say is theirs…
Turns out that "The Orchard Music" which is owned by Sony, claims that the very last note and the applause from our performance is stolen from a recording they represent. And it's not even the same note. Mine ends on an F and theirs ends on an A-flat. Ah, but they are both notes on a piano. Just joking.
Well obviously this is a match made by some kind of automated process, but it's grossly weird 1. that applause would even match; and 2. that it depends on The Orchard Music now to release their claim. Meanwhile it is assumed that they do in fact own that section of my recording, and they can monetize (put ads on) my original recording.
You know what's even funnier. I just listened to their recording on YouTube. And now it shows that in its entire history it has had one single play. Meaning that I am the only person who has ever played their YouTube segment. In the full year that it's been on YouTube.
(Outcome: "The Orchard Music" released their claim on July 18th, just over two weeks after it was made.)
Here's the performance I'm talking about, In case you want to hear my entire recording…