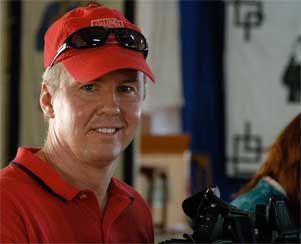 Dave Goulding shooting video at
Upper-TCV in India
Dave Goulding is a cinematographer who has traveled with John Sorenson and Brian Buckley to record the story of Project Happiness.
This summer we interviewed filmmaker George Lucas at his office (ranch) in Marin County, California. Well, actually the students of Project Happiness conducted the interview, and I watched as Dave and John (Sorensen) recorded everything on video tape for the documentary we're making. Well, actually, I have nothing to do with making the documentary – I just make the online stuff happen.
What makes this so much fun? To quote Dave, "I think it's the people you get to meet- the people you meet are just amazing!"
I talked with Dave over lunch, following the morning interview of George Lucas. We covered a mix of topics that ranged all over the globe – from Nigeria to India to the US.
---
Play the interview:
Your browser does not support the audio tag.
---