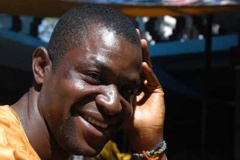 This is a "cafeteria interview*" of Emmanuel Ande Ivorgba, conducted in New Delhi on Friday, the 30th of March, 2007 at the YWCA. Beginning in 2005, after encountering The Dalai Lama Foundation on the world wide web, Emmanuel began a study circle for adults. This expanded into 14 adult circles and 25 students circles, and centered around 8 schools in Jos, Nigeria.
Religion is a sensitive issue in Nigeria, as in many places, and Emmanuel has been able to help people learn about international peace and ethics based on the life of the XIV Dalai Lama in a non-religions atmosphere based on our common humanity.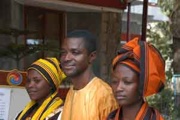 Private schools play an important part in education in Nigeria. Public schools cannot handle the entire load, and students frequently begin school at a late age, so private schools have stepped in to carry part of the load. Students are encouraged to stay in school until they graduate and sometimes do not graduate until as late as the age of 23. (The photo shows Faith, Emmanuel and Mercy at Chonor House in Dharamsala.)
"Very honestly … my contact with the Dalai Lama Foundation in the first place has transformed my life. Each person knows himself – I know my background, but since January 2005 it has transformed my life in a number of ways. I should give a few examples…"
| | |
| --- | --- |
| Play the interview: | Your browser does not support the audio tag. |
*I call these cafeteria interviews not because they offer a varied menu but because they're sometimes conducted in a noisy or populated area, giving you the flavor of the locale, but also you've got to pay a little bit of attention in order to follow the interview.