When the web was new, the goal was to get as many "eyeballs" as possible looking at your site content—to aggregate readership with your site being the aggregation point. This pretty much followed the old rules of advertising and promotion—you needed people to see your advertising in order to succeed financially[1. Oh, wait, what do I mean "old rules" here? It's still true, and that's why the rest of this article is germane.]. The phrases "visit us often" or "bookmark this site" or "come back frequently" were the conventional wisdom, and web surfers used bookmarks  to remember what sites they wanted to go back to and read later. But they mostly never did except for the big news or entertainment portals.
RSS feeds and news readers began to change that. (Thanks Dave[2. Dave Winer].) I use NetNewsWire's standalone software on my Mac, and online services like Google Reader let you integrate feeds into your iGoogle home page. You can also sync your Google Reader settings across multiple programs and devices. But in the last couple of months, the scene is greatly changing is subtle ways I think people haven't spotted yet…

With the advent of larger-screen mobile devices (like iPad) and reasonable mobile apps like reeder that sync with Google Reader lists, we're now reading our news feeds everywhere, and the pace at which we flip through them has greatly accelerated.
We all know the Facebook stickiness phenomenon — you open facebook.com and just keep it open all day and night—news is there, feed is there, friends are there, chat is there, and everything is available on that one site. Same could be said, for some people, for iGoogle or gmail, which are all squished together in one big Google mashup of a "site." Facebook and Google "have all the eyeballs" and now you don't stand a chance of picking up very many eyeballs for your own web site. If you put a short URL into your Facebook status/feed pointing to a blog post you just wrote, any of your friends who click to open it will read your blog post on the Facebook page—they never need to leave Facebook, even to read your blog entry.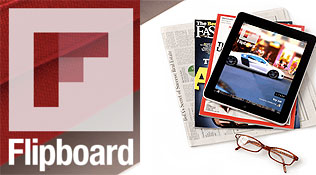 And since the arrival of  iPad apps like Flipboard [3. I love Flipboard, and I can zoom through dozens of pages on Flipboard by flicking a finger way faster than I can use a mouse and a computer screen, and this really hammers the web server that's at the target end of the action! Flipboard picks up its clues and links solely from FB and Twitter feeds—you can't even tell it to track a web site—it only tracks sites and pages that get significant social activity!] pick up FB status and Twitter streams, these apps are besieging web sites with requests for content, and then caching that content on their own sites for later reading. Yeah, you've usually got an option to read the full content on the original site, but it's way at the bottom of whatever you're reading, and since attention spans are short, you're only going to read the original once in a while. Flipboard and its cousins are a reason why web site server performance occasionally suffers these days[4. Server performance suffers when searchbots spider a site more rapidly than the server can handle. I discovered Flipboard and other crawlers were impacting small server performance about a month ago, then I got an iPad and discovered why they're crawling the sites, and I'm impressed with the net result, so I'm finding ways to improve server performance to handle the extra load, thinking that it'll be worth it in the long run, and that this phenomenon is going to increase.]—they're positively crawling all over small web sites proactively finding and caching content for their readers to look at later on.
The bottom line is that you have to make all impressions count, regardless of whether they're on your own web site or on Facebook, Flipboard (or anywhere else). You can no longer count on eyeballs coming to your web site. You brand is wherever the readers' eyeballs are, and no longer exclusively on your own web site. You're not in control of this, and you'd better learn to take advantage of the situation and live with it.
— Sky
---