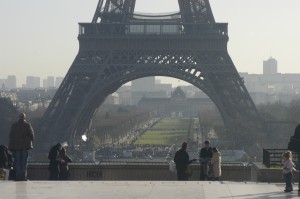 This may be just an artifact of my personal experience, but I think I'm finding that the hotels offering "free Internet" are more often the low-priced hotels than the more expensive ones. At least in Paris and London.
It's not uncommon to find a hotel over 250€ per night that has a 15€ or higher charge for Internet access. But in the hotels I frequent—I'm fine with just a bed with barely enough space to move around the edges, a shower, and Internet connection, for just over 100€ a night—it seems to be more common to have a free Internet connection included.
Perhaps this is a reflection of younger travelers looking for less-expensive hotels and being attracted like flies (there is one buzzing around my head at this instant here in Paris' 5eme where I am connected while sitting in the hotel lobby preparing to take the metro to a meeting) to hotels that provide connectivity.
And the true boon is that Skype on my iPhone can connect to the free wi-fi Internet and I can make Skype calls without having to purchase those "overseas" (and overpriced) mobile phone minutes! Quite a difference to spend USD$0.02 per minute rather than $1.29.
{Part of Sky's series on using tech when traveling}