Digital nomads, you can finally and really be the system administrator for your cloud (and other) servers from your iPad. Since December, each time I've left town, I have intentionally left my MacBook Pro at home in favor of my iPad. I found that just having a few specific apps allowed me to fully administer my cloud servers from the pad. Please note that a bluetooth (or other) keyboard is required for some of these apps to function fully. But generally I can do everything I need to when I'm on the road.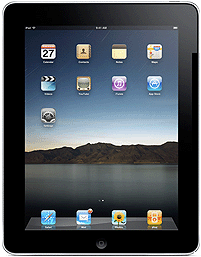 MY TOP APP PICKS FOR SYSTEM ADMINISTRATION ON iPAD
iSSH— gives you secure shell (SSH) access to your servers using name+password or digital certs. If you use a command-line editor on your server (I use vi), be aware that up-down-right-left arrows won't really function if you use the onscreen keyboard, but from a bluetooth keyboard they do work! Recently I've also had trouble with ESC, and I've had to tap its onscreen "button" instead on the physical key. You can also configure iSSH to emit true function keys (which are needed for some configuration work—in htop, for instance).
1Password— what a great way to keep all those passwords in one place! And encrypted too. 1Password for iPad syncs with 1Password on my Mac through Dropbox. When I make a new password, or change one, it is always available on the iPad as soon as I need it. This way I can use those 20-character random passwords that I'd never remember if I had to commit them to memory.
Dropbox— Well of course you already know I use Dropbox for sync'ing 1Password across devices. And you can do without it if you sync the two devices "locally" on wi-fi, but I would never remember to do it—Dropbox lets it happen more in real-time and effortlessly.
DropDAV— (Not an iPad app, but essential nevertheless) I need DropDAV because I have a buddy who watches my back and serves as sysadmin when I'm on those long air flights or otherwise indisposed, and he and I need to share

documents

, which we do through DropBox. DropDAV isn't an app, it's a service. Sign up and it makes your DropBox documents available to Pages and Keynote through WebDAV services on DropDAV.
WordPress app— HTML textboxes don't scroll properly on Safari on the iPad. This is a really big problem if you're trying to admin a WordPress blog in Safari. So the WordPress iPad app is a necessity, though you don't really have access to all of the WP

admin

features (it's designed for bloggers, not admins), which means I'm constantly back and forth between this app and Safari even when I'm working on a single blog. This needs improvement, but I can make it work well enough for now.
PROBLEMS WITH THE iPAD
No Flash. This means I can't fully utilize a lot of tools, like Cloudkick, when on the road because they use Flash extensively. (However, I can log in at CloudKick even with my Yubikey one-time-password USB device, as long as I have the iPad USB camera adapter with me. That's a trick to be explained elsewhere.)
There's no PGP mail encryption/decryption for the iPad mail app. Although I have other ways of dealing with encrypted mail when I'm on the road, this is still a big problem. If you rely on encrypted mail, be sure you have an alternative available when you're traveling with your pad.