The goings-on here in Dharamsala are absolute proof that for a cross-cultural, around-the-world project to work, you have to have on-the-ground grass-roots support. Without it you go nowhere.
Our three wonderful teachers (we call them coaches in the project) have made a world of difference in how the project has progressed – and the next few months for each of them will also make a huge difference as we make the quantum leap from three schools to many, many schools.
Who are they, and how and why are they making this difference?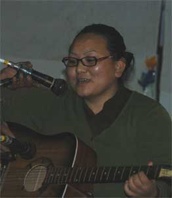 Let's start with our host campus. Yeshi Khando teaches English at Upper TCV here in Dharamsala. This is her first year teaching. Her energy is contagious. You pick up on it right away. Among the things you don't know about her is that she is a singer and quite well-known here at TCV because of it. (When I was here for AirJaldi in October, she was on the stage for the entertainment night.) This is a science-oriented campus, and because the students are focused on science and math – in order to pass their exams which ultimately determine whether and where they'll go to college or university – it's a tough job to convince teachers and students to take time out to study ethics and (gulp) happiness! There is such a laser-like focus on academics here that you can feel it in the air. Yeshi has done a marvelous job of getting her students not only interested, but creating amazing video which we've put up at the P-H web site.You can tell that she truly believes that happiness comes from genuinely caring about others – and the teachings of the Dalai Lama are everywhere here. Next school term she hopes to carry the project to a second TCV campus.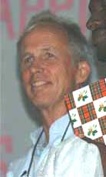 Sadanand Ward Mailliard, called "S.M." by his students, teaches at Mount Madonna School in California. SM lives and breathes a spirit of total commitment to critical thinking skills. His dedication really drives these students not only to enjoy their trip, but to truly connect with the local population, whether it be orphans in central India or orphans at TCV in northern India. SM has worked with these students to develop questions that they've asked of diverse and well-known individuals, then fine-tuned, during the course of the school term. To try to discover some of the many facets of long-lasting happiness. And these interviews culminate in an interview of the Dalai Lama tomorrow. The students have blogged during the school term, and are now blogging the trip daily, at a web site arranged by the Santa Cruz Sentinel (newspaper). During each day, the students visit several sites, work with the other students, and after returning to their hotel in the late afternoon they have a planning session, followed by dinner, and another session in the evening. Then the students prepare their blog entries.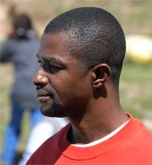 Emmanuel Ande Ivorgba, of Jos, Nigeria, volunteered to help The Dalai Lama Foundation with its study circles, which are based on the book Ethics for the New Millennium, about two years ago. This high school principal (Dominion Heritage Academy) began working with a small group of his own students, but rapidly expanded to train others in nearby schools. His dedication is reflected in the fact that he has had to go to an Internet cafe in order to connect – meaning a long trek each day after school – and late hours at times. (He recently obtained a computer which he could use with a cellphone and GPRS to directly connect to the net from home.) The trip from Nigeria took persistence – in October last year he was unable to attend the AirJaldi Summit because a visa was not issued. But this time he was able to obtain a visa and bring two students with him to this event. Emmanuel's soft-spoken demeanor is an inspiration to all. He is clearly a man anyone would turn to for advice. Emmanuel and his students have also produced video that's available at the P-H web site.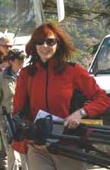 And why and how does the project even exist in the first place? Certainly without these three teachers serving as local coaches the project would be only a shadow of itself, but the project is the brainchild of Randy Taran, a Canadian native who lives in the San Francisco Bay Area. Randy is executive director and founder of the project and it's her hard work that has made it possible for these people to be here in Dharamsala talking, laughing, singing, dancing and otherwise enjoying each others' lives. And thru her effort it will now be possible for them to interview the author of their textbook – the XIV Dalai Lama.