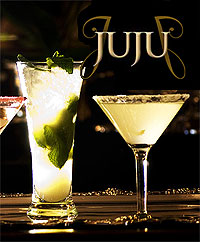 For my friends in the UK, if you life or work in London you might like to join the 12 Traveling Geeks (includes me) who will be at a tweet-up at Juju in London on Sunday evening July 5th (2009).
A tweetup (like "meetup") is a face-to-face meeting of people who previously only knew each other through Twitter. For some of the well-known geeks, like Robert Scoble, who has over 95,000 followers on Twitter, this could be a big thing – Robert might be able to fill the room just with his own followers who happen to be in London that night.
Where I stand right now, at 165 followers, maybe a couple of you will know someone who'd like to meet the geeks – reserve a place in advance online.