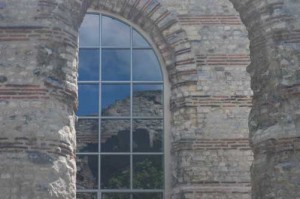 I still like black. Dress mostly in black. (White hair, of course.) But I just got tired, this week, of how dark my blog theme was. So I put a nice photo from Paris behind the blog's business area and I think it looks spiffier now. Also, this gave me a chance to customize the theme, which I do like, but eventually I had to "make it my own."
The photo is of the Palais des Thermes de Cluny, (a Roman tepidarium and frigidarium) originally Roman baths, whose ruins are visible from the Rue St. Michel in the Latin Quarter of Paris. These baths were contained in perhaps the oldest brick building in Paris, built in the 2nd or 3rd century BCE and restored by Napoleon III.
I really fell in love with the contrast of the modern multi-pane glass and how it reflects the back of the brick arches that I'm shooting through. Almost 2400 years of history represented in this photo.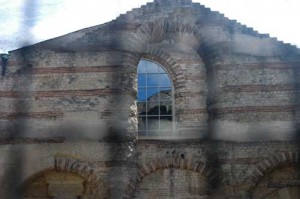 Stepping back from the close-up you can see how the modern window is framed within an ancient arch.
---
Resources:
Bricks in Paris blog describes the Palais des Thermes May 5, 2009
Another nice photo and short description {in French}
The site is integrated with the Hôtel de Cluny and the Musée de Cluny (Musée National du Moyen Âge — National Museum of the Middle Ages)
In case you don't know… BCE
Google Street-View (go to 24 rue St. Michel, Paris, France)