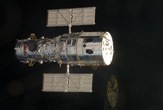 Time to start tracking another one of my interests. Space.
The shuttle crew, being way farther up than usual missions (350 mile orbit), has finished fixing the Hubble space telescope and the telescope is being checked out. The shuttle landing has been postponed to Saturday, May 23rd, 2009. The first photos from the refurbished Hubble – more spectacular photos than ever before – will be released by NASA in September.
See also: The NASA Hubble telescope web site.