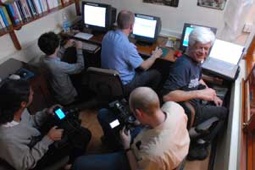 When I go to Dharamsala, no matter what my intended major focus, I always have a half dozen concurrent side projects. No exception this time. I spent several days talking with people and keeping those relationships and projects alive. And introducing new people to old people. Playing the role of human glue to bring people together. This was my fourth trip.
Now that I'm finished there, I've returned to Delhi, having arrived by train last night. The students from Nigeria and California, with the teachers and part of the video crew, were all driven down (in seven cars) to Pathankot where we picked up the overnight train to Delhi. We arrived in Delhi at 5 am. Delhi streets are fairly busy any time of day or night, but we had an easy time of it since we had a "tourist" bus waiting, which is at the disposal of the student group for the next couple of days.
(The photo shows the computer room at Chonor house, overflowing with me attempting a video transfer, two video cameras running, and two computers on the Internet.)
Today the photographers and video makers (and I) are looking thru photos and copying and editing them, as well as copying video files. And preparing blog entries which can be uploaded from the YMCA around the corner. While in Dharamsala, I copied the TCV videos (about 20GB) to a LaCie USB drive, and this morning I copied the Nigerian videos from Emmanuel's camera to the same drive. This drive will go with John Sorensen back to GraceCreek Media so the video will be available for use in the documentary that's being made for Project Happiness.
Several thoughts, and perhaps a cautionary tale or two for traveling geeks:

First, I travel with all sorts of cables and plugs. Not only for the devices you're taking, but for devices the people you'll run into will have with them. Think not only about electric plugs (every electronic device I own runs on 110-240AC and needs nothing but a "pin-to-pin" converter), but also connectors and cables for computer-to-computer, computer-to-disk and computer-to-camera connection. Four-pin and six-pin, USB, Firewire – everything might come in handy when you need to help a fellow traveler – or share a video with them. And even with the arsenal of plugs and cables, I was caught short once on this trip – needed a 4-pin-to-4-pin DV cable and didn't have it.
Second, when traveling you've gotta take conversion software for audio and video. I have MPEGStreamClip which converts MPEG-2 (from the JVC cameras that are out in the field) to formats that QuickTime and iMovie can read. And I have QuickTime Pro (requires a small paid upgrade from the free QuickTime version) so I can import and export more formats. QT-Pro helps with video and with audio – I have the LAME mp3 audio converter so I can make good mp3 files from my iPod-based interviews. I use a Griffin iTalk, which plugs into the bottom of an iPod and provides stereo "memo" recording capabilities. I am still somewhat conflicted about whether to post mp3 or QT "mov" format online.
Third, carry enough burnable CD and DVD discs. I was caught short this time because another traveler filled the SD card she uses in her camera and I ended up burning four CDs in order to empty her SD chip so she could continue shooting photos. That pretty much ate what was left of my supply of burnable CDs.
Be sure you think about the logistics of how you're going to offload your media from camera to something else. John brought an 80GB LaCie USB drive, and we've half filled it by transfusing the TCV videos plus the Nigeria videos – right from their own cameras into my computer and onto the LaCie drive. We're playing it kinda dangerous by having only one drive, but that's what we've got.
Finally, on formats, at TCV we have given the school a JVC camera (records MPEG-2) and a Macintosh computer. The kids created a great 20-minute "documentary" but left it in iMovie rather than creating another format. So I am using my Mac PowerBook to render the iMovie into something that can be burned and sent with the others who are here. That's if I can find a CD-R to burn it onto (oops!).