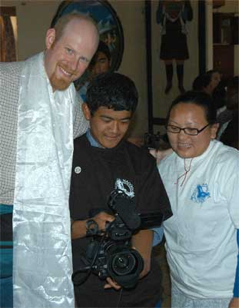 I interviewed John Sorensen, producer for the Project Happiness documentary, asking him what happens behind the camera and then after all of the video has been shot.
[In the photo you see John, Tenzin Dawa (the TCV cameraman mentioned in the audio clip), and Yeshi Khando, the teacher who picked up this project and ran with it at Upper TCV.]
John's team of professional collaborators, David Goulding who handles the "big" camera, and Brian Buckley, who captures the sound while they're shooting, are also interviewed in our series.
This is a challenging process, with video captured in several formats, several shoots in the field, and diverse cultures with different familiarity with the technology.
| | |
| --- | --- |
| Play the interview: | Your browser does not support the audio tag. |
Listen as John describes the process of making the documentary, shooting in California, Nigeria and India, and how the team works to create the raw footage that then goes to the "cutting room" where it turns into a final documentary. John speaks with knowledge, insight, and deep feeling about the process.