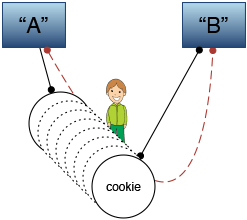 Online advertising has "gotten personal" and can adapt itself so that the ads you see are related to what you've been viewing, or shopping for, online.
This means, for example, that when you are viewing a sleeping bag at REI.com, you might later on see an ad for REI—an ad featuring that same sleeping bag—at another web site later that week.
A friend recently mentioned this article in Huffington Post claiming you can opt out of this kind of advertising. They say you can opt out in 2 easy steps. Turns out you can't really opt out of the tracking, just the advertising itself.
The way the advertising works is:
When you visit REI online, a cookie is saved in your browser;
The cookie is for an online ads site, not for REI;
When you later on visit the second site, the online ads site "notices" the cookie, looks up what you were viewing, and shows you a relevant ad.
It's pretty simple, and REI never has to put any cookies in your browser—they just pay for their advertising through the company that tracks and then serves the ads, which makes the REI advert appear when you're on the second site.
The bottom line is that you can in fact opt out from seeing the custom ads. But you can't opt out from having your information recorded. In other words, you can turn on the blinders and not see the ads, but they're still going to know what you're looking at, how recently you looked at it, how often you looked, and every place you looked at it.