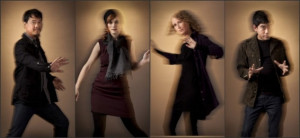 I was just so astounded to see these unique photos in an email promotion for the Del Sol Performing Arts Organization over the last month. I like Del Sol, and if you're in the San Francisco area you should check them out (or get recordings), but the photos caught my eye because they (and especially the one on the right of Rick Shinozaki) look so much like what I see when I get an optical migraine that it's totally astounding.
What d

oes an optical migraine look like? What happens for me, and this is not true for all who have this condition, is that portions of what I'm looking at are "filled in by background color" from behind the object. So, like the photo of Rick's head, I might see clearly the left side of your face, but the right side disappears and is replaced by the color of the wall behind your head. (My opticals are not associated with headache or any pain whatsoever — they're entirely visual and last 20 to 40 minutes.)
Really spooky to see a photographer reproduce this phenomenon!