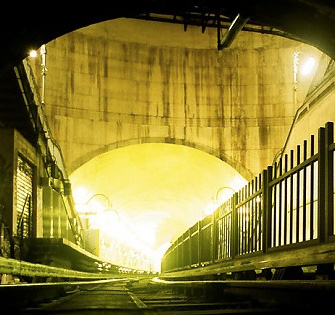 Without much comment, but with so much enjoyment (as one who uses the Paris metro beaucoup  when I'm there — three times in the last 12 months)… the story of a subterranean world very few will ever see.
I would call them benign explorers and documenters of public territory (my words, of course) and certainly not terrorists, though I'm sure there would be hell-to-pay if they were caught by "the wrong people" and someone wanted to hold them up as examples of how poor security is. But they are urban heroes to me.  😉
I'm certainly not going to tell you the details, but I've done my own exploring of locked up places that I shouldn't have visited (once freeclimbing up the side of a brick building at midnight with no gears, ropes or other aids, checking for unlocked windows, and picking locks), and I know the rush of being there with no intent to do  harm but just exploring spaces that are usually closed off!
Perhaps you're aware of the outcry among photographers (including myself) about rent-a-cop guards in the U.S. who try to stop you from taking perfectly legal and legitimate photographs in public places (most often near courthouses and federal buildings) — I have been stopped twice by these two-bit uninformed guards trying to keep me from taking photos because they believed there are federal laws prohibiting photography of federal or critical structures (even bridges). That's not the same as jumping off the platform and running next to the subway tracks, but I couldn't resist the comparison because it shows the paranoia that exists here in the U.S.
Also see my Art in Public Places articles, and the mixed-reality games I've made over the years since 2002.
[Photo "Ubiquitous | Paris 2007" from SleepyCity.net]