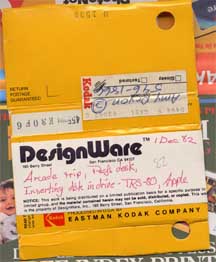 I just discovered, due to some exploration by Clark Quinn, that most of our DesignWare educational games from the 1980s are available on The Internet Archive in playable form. During the 1980s many educational software companies got their start. Among them my company, DesignWare, plus The Learning Company, Davidson, and Spinnaker Software. DesignWare developed about a dozen titles, two of which were published by Spinnaker. A number of these became huge hits.
Clark was one of the original team who wrote our games. Because we made a habit of sending our development team members to trade shows, Clark had the experience of encountering the team from the newly-formed Spinnaker Software. At the time, DesignWare was a development house and not heavily involved in marketing our individual titles — we served as a "corporate author" for other publishers. The venture we signed with Spinnaker was our first foray into "consumer" educational titles. They published our Story Machine and Facemaker titles. Probably our best known title was Spellicopter.
Many thanks to Clark and our developers for all those good times and good games. Lesley Czechowicz managed the development group and our production operations. Sharmon Hilfinger and then Peter Rosenthal headed sales and marketing.