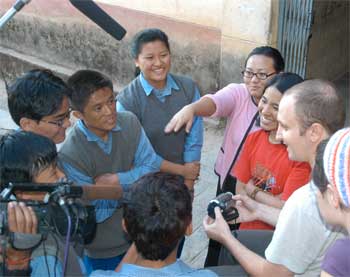 Jay and Ryanne (right) conduct a workshop for
Yeshi Khando (in pink) and students at Upper TCV
For me, today's tasks were all connected with what we are calling Project Happiness. Randy Taran's work with high school students has now expanded to become a project where students in three countries are studying the same book and exchanging their thoughts about what happiness is, and how to behave in ways that promote happiness all around them.Three groups of students are participating: one of them is in California, at Mount Madonna School in Watsonville; another is in Jos, Nigeria; and the third at the Tibetan Children's School in Dharamsala, India. California and India being iterally on opposite sides of the world.
The students are reading the book Ethics for the New Millennium, by the Dalai Lama, and are currently discussing the nature of happiness. I say "discussing" meaning they're exchanging email messages in which they are conducting their discussion.
Today's work, here in Dharamsala, involved some of the students in teacher Yeshi Khando's class, and its purpose was to put resources in place so we can expand the discussion to include the exchange of video messages expressing the students' thoughts and insights. Two AirJaldi partipants, Ryan Hodson and Jay Dedman (rightmost in the photo, and Yeshi is in pink) volunteered out of the goodness of their hearts to give a workshop specifically for the P-H kids and they took most of their day today to accomplish that. In the photo, Jay is demonstrating how the video camera works. (There's a second video camera poking in from the left, which is a TV crew that we brought in to tape the whole process – kind of like a film-within-a-film.)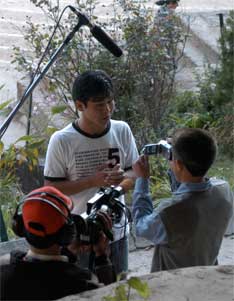 The students quickly took to video work – the first assignment Jay gave them was to go outside the school building and shoot some video of their day-to-day lives. They were disappointed that there were no cows around that they could tape, but obtained short interviews from other kids who were nearby (photo at left), and made a pretty nice experimental video.
My take was that they were surprised with how quickly they picked up the technique. And each student was given a chance with the camera, so they all got a little taste of the process.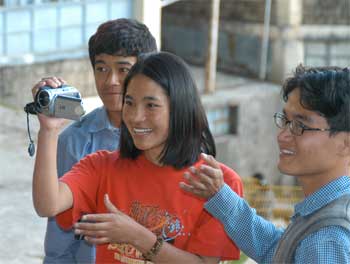 Jay and Ryan then took the students into the computer lab where they hooked the camera to a computer and copied the video into iMovie where they could edit it and compress it down into a video capable of being played online. As a last step, they uploaded the video to blip.tv where you can view it.
All three of our campuses involved in Project Happiness should soon have cameras and be exchanging video messages, and I am hoping that we can extend this so it becomes a world-wide project quite quickly.