Woohoo! The US Postal Service [USPS]

comes thru! They're in the 21st century now!
I work from a home office and I'm one of millions of people in the US who have a post office box [POB or PO Box] for delivery of business mail, rather than having it all come to my house. One of the problems with having a "PO Box" is that I have to go to the post office to pick up the mail, and things don't arrive every day. Usually there's mail only one or two days a week.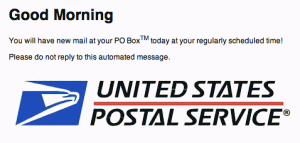 So when the USPS announced earlier this month their "Real Mail Notification" service, I was really happy. Whenever they put mail into my PO Box they work some magic or other, and then I receive an email saying there's mail in the box. Checks. Magazines. Legal notices. (LOL) Whatever. There are still a few things that simply must arrive in physical form, and not as email, so this is very useful.
They have an additional service where they (now) will accept FedEx and UPS shipments at the actual post office, then put them into a locker and notify me by email right away. So if I'm going to be out of town for a couple of days, or don't want a shipment at the house, I can have it sent to the street address of the post office and they'll accept it on my behalf.