NASA flew the retired Space Shuttle Endeavour through the San Francisco Bay Area this morning. It was a treat for tens of thousands of us who waited and watched for this very last flight of the Endeavour. It is one of four shuttles going into retirement in the form of permanent exhibits…with Endeavour ending up in Los Angeles.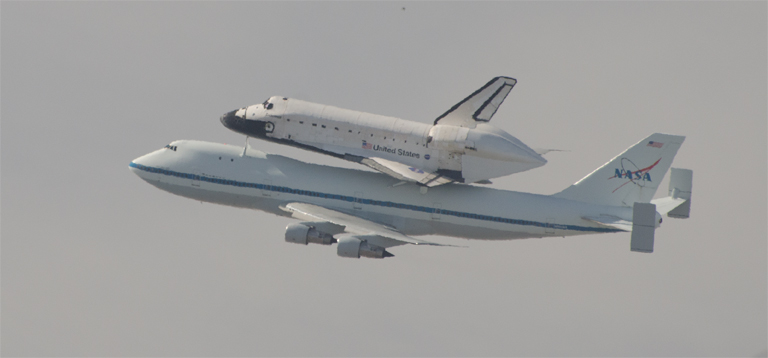 Using amateur radio repeaters — there were lots of folks watching for the aircraft all along its route — I tracked the flight's progress from Southern California up past Stockton, where it flew around the capitol building in Sacramento twice, then down the Sacramento River to the Bay Area. The craft made a pass by the Golden Gate Bridge, one around the Bay in a big loop, and then back out straight between the bridge towers. I joined hundreds of enthusiastic fans viewing from Twin Peaks (elev. 800+ ft) in the geographical center of San Francisco. We were nearly the same elevation as the aircraft, which flew between 1,200 and 1,500 feet during the entire maneuver.The shuttle rode piggyback, held to the roof of a specially-configured 747 by struts. This is the same arrangement that was used to ferry the shuttles from landings in southern California out to Florida for later takeoff on subsequent missions.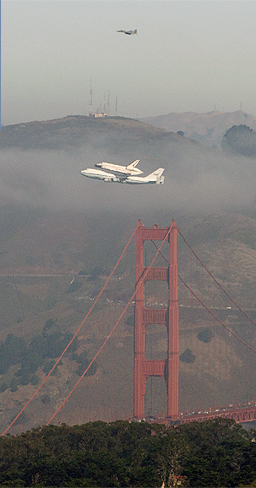 The aircraft entered SF airspace in the East Bay, flew down past San Ramon, then came back up the east side of the actual bay and over to Marin County where it made a tight left turn back toward the Golden Gate.Three big engineering feats from different times, all visible at the same time (shuttle, huge 747, and GG Bridge…).
The piggyback pair was easily visible from major peaks around the Bay during the entire circuit. There was a big viewing party at the Chabot Space & Science Center in the Oakland hills.
Here's a shot of the dual craft passing between the towers of the Golden Gate (only one tower in the photo) with just a bit of fog in the air, and (above, top) a closeup of the craft as they swept past Twin Peaks nearly at our eye level. A fighter jet escorts them in the bridge photo.
The viewing area was packed with natives and tourists. Parking areas overflowed. This is one of the big benefits of living in a beautiful tourist city…we get to participate in events like this several times a year. Last month it was the America's Cup World Series (catamaran sailboat racing), with another round beginning October 2nd. And right after that the Blue Angels' next airshow  coincides with Fleet Week October 4th to 8th, 2012. Exciting stuff!