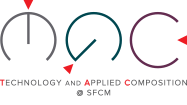 In January (2015) I began a zero-to-sixty transition from full-time computer scientist to composer. The next stage in the process begins in September (2015), where I have been accepted as a student at the San Francisco Conservatory of Music in their Technology and Applied Composition program. Their Professional Studies Diploma [PSD] is a non-degree, full-time "post-graduate program" that runs one academic year. (I guess I don't really need more degrees — just want to learn how to do more stuff.)
You can find my recent in-progress work online and I will update this frequently. You can work "upward" from that link to find other works from the recent past. I am currently writing a three-part suite with the working name "Flight" and there is one excerpt online. A second three-part suite, which is yet untitled, is represented as well.  All are works-in-progress.
During this time I will continue to support cyberspark.net efforts in human rights and free speech, and a limited number of Red7 clients.
A pivotal event during the transition was the New Music Gathering which was hosted at SFCM in January 2015. I wrote a short article about the gathering in January.