Chicago's Millennium Park has a huge outdoor performance venue, which replaced the old "bandshell" and it also has a number of other art-in-public-places featres. If you're in the Chicago Loop and have nothing to do for an hour, it's worth crossing Michigan Avenue to see The Bean. This is a metallic, mirror-finish sculpture somewhat like a kidney bean, they say. I say it's more like an alien from outer space that happens to have plopped itself down in the park and is attracting Earthlings to eat them.
This sculpture attracts hundreds of adults and kids at a time. As you approch the bean it is so reflective that at first you don't realize that it's even there – it looks like the concrete pavement just extends up into the air. As you get closer it's clear that the bean is reflecting images from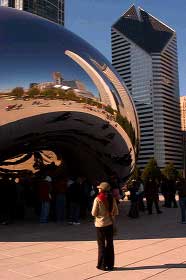 around the plaza. Then, you wonder "where am I?" And I will tell you that's not so easy to figure out. You see people standing across the plaza waving at the bean – what they're doing, of course, is looking for the waving reflection to they can spot themselves.
Not only can folks walk around the bean, they can walk under the bean, where there's an even more complex set of reflections that have your mirror-image moving around at right angles to the floor.
It's a fascinating piece of optical art.