At the AirJaldi summit, one of my "most memorable moments" was when Sheel Mohnot BOUNDED onto the stage to give the most energetic five-minute introduction to a social enterprise that I have ever heard! [Find his presentation on the AirJaldi "resources" site.]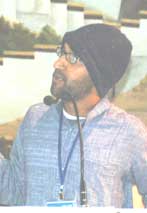 Sheel Mohnot
This guy Sheel is the South-Asia (to me this means mostly India, but maybe it's broader) team member for KIVA.ORG – his role is Manager of South Asian Microfinance Partnerships.

KIVA dot ORG is a totally-cool way you can loan money using a microfinance model, to entrepreneurs all over the world to help build their small enterprises. The Kiva team, with coordinators around the globe, and their "field partners," seek out small businesses that need just an incremental boost (on the order of several hundred dollars US) and they put them into the KIVA database, where people like you and I can then look at them as individuals and make decisions about how we'd like to invest. We pick specific entrepreneurs, and make specific dollar-amount loans to them, and then we track the performance of those loans over time.
KIVA's explosion occurred on Hallowe'en this year…
KIVA has been rolling along for some time, but on October 31st they were about to get some TV coverage on Frontline PBS, and to quote Matthew Flannery (co-founder of KIVA) "The day began with a furious push to get more businesses on our site. Our partners all over the world worked overtime to fill our site with loan applications from hundreds of entrepreneurs. We weren't going to run out of businesses this time. Premal and Chelsa did an incredible job at mobilizing our partners to get their businesses posted. Our partners proved that quick scale was possible.
"The show was beginning to air in NYC and all over the East Coast. Many of us were in costumes — Premal as Chilly Willy and Jeremy as a Greg Bradyish seventies swinger. We projected the site on a huge whiteboard in our office along with the accompanying server statistics that were being updated realtime. Jeremy, in his curly afro and unbuttoned shirt, dictated to the staff on how our server was responding. All was going well at first. The site was getting increased traffic but was working well.
"Suddenly, everything stopped. The site froze and even the server statistics stopped being reported. The NYC viewers decided to hit the site all at once. Our little server didn't stand a chance. It wasn't even close. It's been down ever since. We uploaded a static HTML page asking for patience and offering an email address. Serving up this one static page is maxing out the CPU on the server."
It's everyone's dilemma, isn't it? You work and work, and you're on the verge of getting that big promotional push, and then it happens. And when it happens, the server freezes up. Wouldn't we all like to be in the position of having that much traffic?
Mostly I wanted to introduce you to KIVA.ORG – which you should track down, and also I recommend you follow Matthew's blog online.