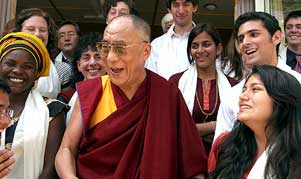 Project Happiness students
Photo: Shmuel Thayer
When you're in high school (late teens) you have lots of questions. You may be more than a little anxious. You may have lots of fun. And of course you're likely to feel like you're the only one in the world who feels this way — whatever way you feel at the moment. You're cramming more and more information into your brain every day, and the stuff mixes and munges around, and questions get generated all the time.
I certainly remember more than a few such feelings.
In Project Happiness we're trying to open up lines of communication among teens around the world, so they can study and discuss happiness. In many views of the world, there's short-term happiness and long-term happiness. Short-term usually referring to gratification of immediate personal desires, and long-term referring to more selfless pursuits which tend to produce longer-term feelings of satisfaction.
In an attempt to chronicle the experiences of a group of teens while they were participating in the Project Happiness process, the students from Mount Madonna School kept notes and journals this spring. There are additional notes integrated from the two Nigerian students, and from the Tibetan exiles at the Tibetan Children's Village in Dharamsala India. These were originally posted at the web site of the Santa Cruz Sentinel, and with permission have been integrated into one unified post at the Project Happiness blog. [Thanks to Tom Shani for the port and the integration.]
You already have access to a couple of interviews from the journey to India: John Sorenson's interview in Mopping up the Pixels; Emmanuel Ande Ivorgba (teacher of the Nigerian students who joined the journey) on Study Circles; coming up tomorrow an interview with Dave Goulding; and I have other audio interviews "in the can" but not yet posted.
The journey continues this year as we add a couple of dozen schools who will beta-test (pilot test) the Project Happiness Guidebook to Happiness that we're writing right now. And students all over the world will be able to create and post their own video and audio segments to the PH web site. This will begin in mid September. Watch for more then…