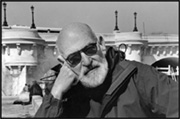 Ben Mittman with the Pont Neuf sneaking a peek over his shoulder
Ben Mittman, my dissertation advisor and mentor from Northwestern University (from whence my PhD degree) has been living half of each year in Paris since he took an early retirement, and has been chronicling the restoration of the Pont Neuf (the "new bridge") which was completed in 1607. The Northwestern University Library has a special section on its web site that describes the bridge and the project.
Ben has created this record of the restoration process using only black & white film. A rarity these days, but one that I think is in keeping with the spirit of this 400-year-old construction. He began his project in 1994 and the restoration was completed in April 2007.
There's a lot of history at this web site, but the photograph collection is particularly notable. And one of the most interesting parts of the restoration is the resculpting of over half of the 384 mascarons (faces or masks) that adorn the sides of the bridge.
I can't say enough about what Ben's support of my work and that of other students meant to us at the Vogelback Computing Center of Northwestern in the 1960s and 1970s.  The luxury of having essentially unlimited computing time available – and then when I was on staff of having almost unlimited access to the supercomputer after midnight every night – was what allowed a select group of us to make progress on projects that otherwise would have never happened! Without this, Atkin, Gorlen and Slate would never have written Chess 1.0 which became the first world champion chess-playing program. And I would never have gotten Northwestern into computer-aided-instruction (otherwise known as e-learning) and computer conferencing. Thanks, Ben!