I've been informed that the Traveling Geeks will be provided with British Telecommunications [BT] OpenZone wireless connections while we're in London in July. From what I read, BT has been building out these services for a couple of years now, and they prominently feature "outdoor" public access to wi-fi. Central London has some number of indoor hotspots and outdoor coverage areas. When I get there I'll know better how this works in practice.
In the US, several cities have experimented with open or public wi-fi access. One of the experimenters is Philadelphia, where a colleague of mine had a terrible time trying to maintain a wi-fi connection and finally gave up. Another is Mountain View (CA), where I find that signal strength varies wildly from block to block, but basically the main business district of Castro Street is pretty well covered. Once you're inside a building the coverage is worse, but it's tolerable and definitely usable. San Francisco planned such a system [2005 was the last time I heard about it], but it has been sidetracked for a long time…since I barely get cell phone coverage where I live, I doubt that I'm going to get public wi-fi here any time soon.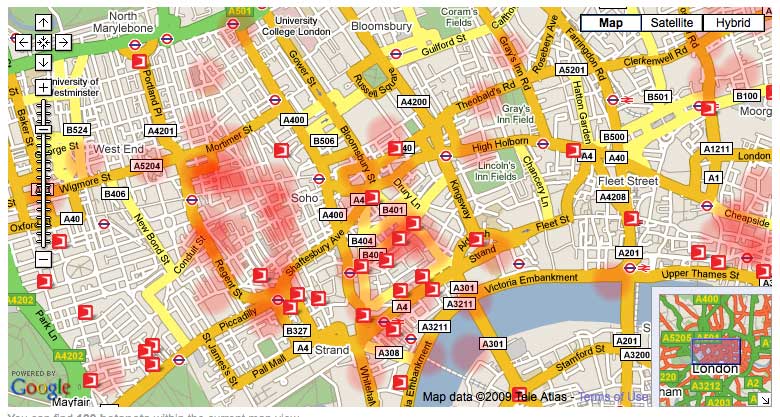 So back to London. Here's their map of coverage for the area we're likely to be in. Those little red clouds are what interest me. They're the outdoor wi-fi areas. They look kind of "hazy." In fact, wi-fi is hazy because it doesn't travel far and it doesn't penetrate walls very well. Will coverage be located where we will be meeting? And more important, will the wi-fi signal penetrate any buildings we're in? Is it likely that we'll use them or will our meeting sponsors end up having wi-fi inside their buildings? At night we will have hotel Internet access.
Big experiment. I'll be reporting on it beginning July 5th.
See our London/Cambridge agenda.
---
Disclosure: My travel expenses for the week in London are being sponsored by 

.  I have no obligation to report anything in particular during my visit, although I will of course be introduced to people, places, companies and organizations by NESTA and other sponsors while we're there. BT is providing us with the necessary BT OpenZone equipment and accounts. See Traveling Geeks on the web for more information on this trip.