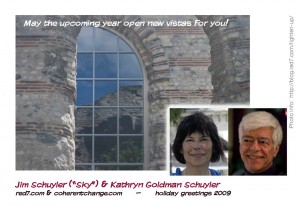 At the end of each year, I like to send a greeting to my friends. Over the last five years or so, it has become almost entirely electronic. And, just as it was with paper greeting cards sent through the mail, it's almost always sent "late" — meaning some time after Christmas and around New Year's. Christmas and New Year's being the big holidays here in the US.
Over the last few years, it's included one of the more dramatic or memorable photos I've taken during the year.
This year's photo is of the Palais des Thermes de Cluny, visible from the rue St. Michel in Paris, in the Latin Quarter near the Sorbonne, where Kathryn and I had a chance to spend a week this summer. (She had been a Fulbright scholar at the Sorbonne in Paris after graduation from college.) Read more about this photo and the Palais des Thermes in my blog article. I spent two weeks in Paris this year, on two different occasions. The second was with the Traveling Geeks just a couple of weeks ago.
My photo (in the greeting) was taken by Olivier Ezratty in Paris in December, 2009. Olivier was one of our Paris Traveling Geeks, and our guide to the Paris Metro on a number of occasions.
This end-of-year time is a bit more relaxed than the rest of the year, since so many people take time off during one or the other of the weeks around Christmas and New Year's, though this year there's been a lot of client activity. And I have two new ventures (both based on technologies developed over the last few years here at Red7) that are launching in January. So I know there are new vistas ahead this year for me, and here's hoping that you do indeed have new windows and new vistas open for you in the upcoming year!