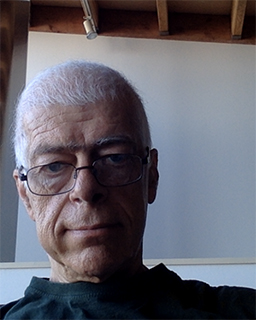 Starting to get some hair growing back this week. Lost 90% when going through that second round of chemotherapy. Today I shot this selfie which reminds me of the brutalist term as used in architecture. Brutalist concrete white hair beginning to grow straight down from the top. Like an incipient concrete cap. Not enough yet that it can be combed in any direction particularly, but enough to reduce the reflective glare. I originally said losing hair wouldn't matter much to me, but it did matter in some specific ways.
First, my head was cold. San Francisco summer weather is cold anyway, but wow was my head cold! So I got out Kathryn's Angel Island baseball hat and it has been my constant companion for several months. About a week ago I noticed it was feeling too hot—perhaps a sign that hair was growing back.
Second, people didn't recognize me. Doesn't surprise me that many people would recognize my mop of stark-white hair as synonymous with me. Walking down the street, folks might glance at me and then walk on without a glimmer of recognition. This was particularly true when I had the baseball hat on.
Now to the debate. I think this look is kind of a Bruce Willis look before he was shaving it. Think 1990s. I do not think it's current. Current would imply that I need a 3-day growth of beard.
What do you think?