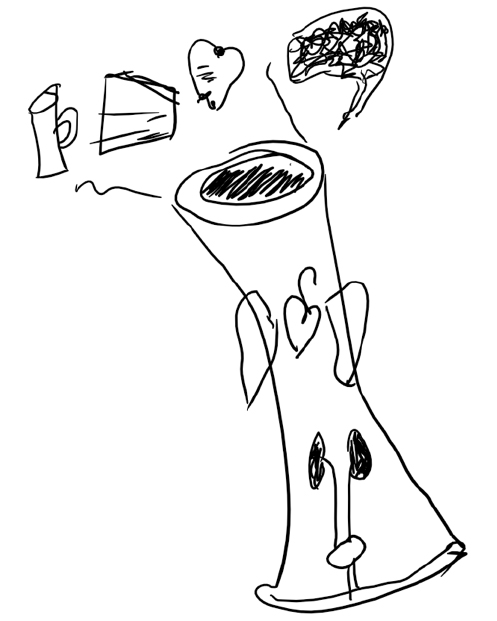 Someone pointed out to me that at our core, each of us humans is a big tube, with a bunch of other systems hanging on the outside. Cake and apples and beer go in one end of the digestive system on a regular basis, and unsightly debris comes out the other on an irregular basis. There are other systems, of course, including nervous, circulatory, urinary, and respiratory systems (among others). But without nutrition, we don't survive.
Eight weeks out after a major surgery that rearranged my digestive and urinary systems, I'm focusing on getting those two systems back to equilibrium.My surgical team is great, and gave me a lot of advance printouts on how to get that yellow liquid flowing again. But the interplay of all of these systems went way beyond what they provided. They are superb—when I call for help, they're right on it. The problem is knowing what to watch for in advance. That's very tricky. And I'm the one who has to do the sensing, interpreting and acting on the nasty things that can come along during healing.  For three weeks following surgery, I was catheterized and urine was flowing constantly (into the bag). It was like having a wonderful scaffold keeping things running. After three weeks the catheter was removed, and I was much more on my own. That's when it got really tough.
I write this as if I was the one doing all of the analysis and figuring out the course of treatment, but at least three quarters of it was done by Kathryn and the team, not by me. That's because some of the side effects (like the urinary infections) really affected by ability to reason.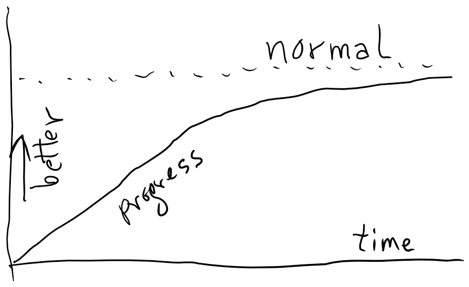 What I'd hoped to see following surgery was an idealized progress line like the one in this diagram. Sloping upward and tangentially approaching the normal line. There would be kinks and twists, of course, and approaches and reversals, but ultimately progress should bring me continually closer to my normal.
But the length of the timeline is an unknown. And the number of reversals. Right now, at week 8, I'm getting pretty close to the normal line. But progress has been fraught with difficulties.
I've had three serious urinary infections during the recovery weeks. Fever, vomiting, chills, each time. Kind of like "some kind of bad flu." But once each had been treated, things improved and I moved closer to that "normal." And initially I only knew I needed to urinate because of intense burning "gas pain" in my gut. This improved over the course of a couple of weeks. The healing process is not exactly like a mathematical equation approaching the tangent. But it's an ideal. And right now, today, I'm getting pretty close. Every day an activity. Time spent on "productive work" daily. Time writing music once in a while. It all takes clear thinking—which is the limiting factor, especially during times of infection. Getting better all the time. The point is, there's no roadmap.