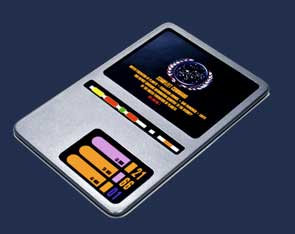 The iPad immediately led me to think about how tablet computing is portrayed in science fiction. TV and movies  – because that's the only place you actually saw little beasties like these 10 or 20 years ago.[1] Today they're (literally today) all around the world.[2]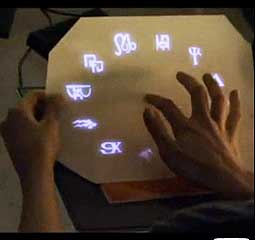 In Sci-Fi Channel's series Caprica, portable computing has become "foldable" and takes the form of sheets of "paper" on which characters, symbols and other stuff light up so you can read them. The paper is touch-sensitive and you can move the characters around as well as tap them (read "keyboard").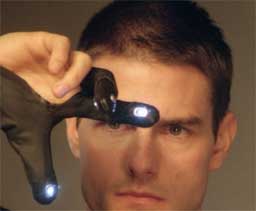 In Minority Report, John Anderton (senior investigator in the Department of Futurecrime) has his wall-size glass see-through display where he can touch, drag-and-drop, and call up data (and photos) from the archives. But nothing really portable, like a pad/tablet in that particular vision of the future. This theme has been picked up in numerous films over the years, most notably recently in James Cameron's Avatar where displays are mostly glass or 3D. (Let alone that the ultimate in displays and projection is the "avatar" itself.)
And cyberpunk novels (William Gibson for sure) are campy and amusing because of their notion that data will be passed around on floppy disks. But at the same time you can "jack in" — meaning connect a computer or network into your brain directly. So there are direct computer-human interfaces, but we were still mostly using rotating disc storage of one sort or another for our real computers until just the last 2 years (SSD in the Apple Air being a primary example). Personally, I prefer this solid state or even (future) non-rotating optical storage and it's clear that it already pervades the entire portable devices market. (The iPad has solid-state SDD storage, all phones do, cameras, etc.)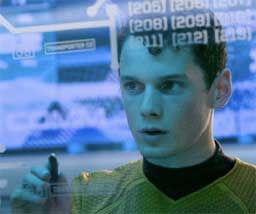 In Star Trek (the  2009 movie being the prime example) there are lots of glass-see-thru devices, and on some Trek series like DS9 (first illustration above) the portable devices look like an iPad, and you can tap on them, read data from the screen, but (interestingly and entirely the point here) the data stays with the device and one crew member will frequently hand off a device to another crew member (containing a task or assignment to be completed). This idea of "disposable" or at least "transient" devices somehow linked to the information they hold that aren't in any sense owned by an individual, is I think not going to happen because of ubiquitous wireless, but it's worth noting. It's kind of like smart paper, isn't it? And the same happens in Caprica's vision of its parallel universe. Presumably the Trek pads talk to the mother ship and can receive assignments wirelessly, but like the economy of Star Trek (long past money and into "everyone is taken care of") the devices just don't have personal "ownership" like today's phones and pads.
This kind of device handoff won't happen for the iPad, of course, until its price reaches the disposable or discretionary level.
---
[1] My first table was a Toshiba Tablet PC, from around 2005, and although it required a stylus rather than finger touch, it had great handwriting recognition and operated smoothly once you got past the 5-minute MS Windows boot up time. (And sometimes even longer…)
[2] Apple is releasing the iPad in international markets today, and WSJ reported on the big frenzy on opening day in Japan!