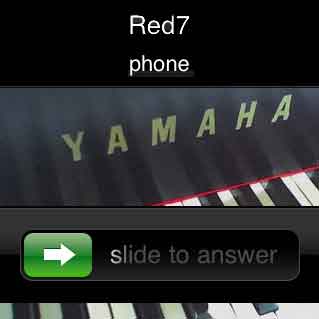 Wake up! Wake up!
I guess you gotta wake up from the dream sooner or later. The iPhone was a really great advance, a phone with an integrated iPod, podcasting, visual voicemail, browsing, email and all the software gadgets. And the multi-touch screen clinched the deal. I have had a great two years with it—lots of exploration and fun. (Love those maps!)
But with the upgrade to iOS 4, my 3G iPhone is no longer usable for phone calls, and I'm having people call me on my landline, or just leave voicemail messages for me and I try to return them later on.
Can't slide the green slide to answer button when a call is coming in. I touch it, try to slide, and it just sits there sucking its thumb. Slide, slide, slide…and it won't budge. By the time it finally reacts, the call has gone to voicemail.
The Wall Street Journal online [July 28th] reported that (in their opinion) Apple is paying attention now and looking into the situation. I hope so, because I'm still looking at alternatives to this iPhone and to Apple in general, after 32 years of fanatically supporting (and purchasing) Apple products!
In my earlier trials and tribulations
I went to the Apple Genius bar and the genius told me to reset my phone to factory conditions. He wouldn't even have a conversation with me about anything short of that. Just go home and reset—can't anything for me.
Then I found other online solutions, none of which worked.
Then I started deleting apps – and after dropping about a dozen apps, the phone got better.
But I still can't answer calls because of the balkiness!