Wow — I was flying down some intermediate (meaning "easy") alpine ski run at Squaw Valley early this year when I noticed a pair of colorful skis flashing in front of me. At the top of the lift I stopped the guy who was wearing them and inquired because I noticed they were branded Lhasa skis and had a drawing of the Potola Palace on their tail.
Hmm… Tibet, mountains, snow… very cool, and this looked like fun. These are fat (also phat[1]) skis in two senses — first, they are wide and work well in deep snow and conditions where there's piles of snow all over the runs — and second, phat in the sense that they'd let you ski with great exhiliration and joy all over the slopes in varying conditions.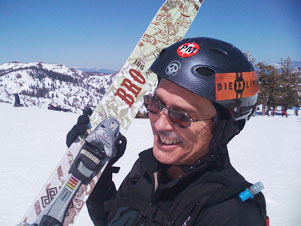 Pat Keane[2], CEO of PMGear (he is also known as Splat), who manufactures the ski, said (in a comment he made on backcountry.com): "I feel sustainability is a symptom of bigger issues and that the non-biodegradability of skis is as a big a problem, if not bigger." … "Certainly, all the micrososmic contributions add up but, personally, for me, an old hippie, I'd rather make a ski that might actually raise consciousness so the token efforts to appear to be mitigating the world's problems and appeasing those who would settle for such small contributions become more widely held views. The Lhasa Pow is such a ski. We wanted to raise awareness of Chinese oppression in Tibet and at the same time protest Chinese-made skis, the carbon footprints of which are far greater than US made skis." … "Skis are exceptionally non-biodegradable. They are wood (and metal) surrounded by fiberglass, resin and plastic sidewalls, bases and topsheets. But in the whole circle of how skis and boards impact our world, there is much to be done, starting with perceptions and impressions." … "I think it is important that consumers look at the big picture of perceptions and awareness. Such large scale big-picture trends could prove every bit as valuable, if not more, than making entire skis and boards out of recycled household garbage."
What's it say on his helmet in that photo? Die Living! W00h00, that's the extreme skier's mantra, isn't it? Pat and I met the day of the public memorial for extreme skier Shane McConkey (at Squaw).
---
[1]
phat
:
Great, awesome, the best, super-duper. (from
slangsite
)
[2] PMGear video on YouTube – the ski I saw on the slope was the Lhasa Pow – BRO 186
Disclosure: I have not skied these skis, and have no connection to PMGear in any way – this was just an interesting encounter.