Facebook has opened up our individual Facebook profiles so that we have no way to restrict certain pieces of information, such as who our friends are, which are now publicly available.
EPIC—the Electronic Privacy Information Center, and nine other co-signing organizations have filed a complaint with the Federal Trade Commission about this problem.[1] Read what Larry Dignan says on ZDNet about this. I investigated and found that we're all naked now…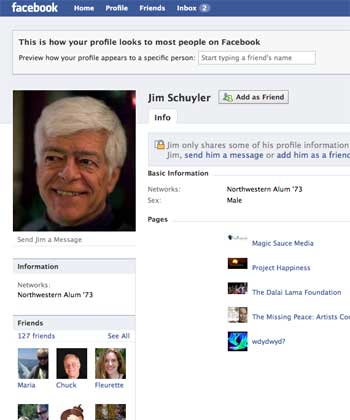 I checked my own profile and turned the volume down on some of the privacy settings, but I was unable to restrict my friend list – all 127 of them are freely available to anyone who searches for me on Facebook (not to search engines – just to someone who joins Facebook, but that's trivial). Now I ask you, do you want the entire world to know who you have friended on Facebook? It exposes your entire set of social connections. I consider my friend list to be much more private than the rest of the info they release. (Though I'm not entirely happy that they show my fan pages, for that matter.)  ¡No way José!
---
[1]From the
EPIC complaint to the FTC
:
34. Facebook now treats the following categories of personal data as "publicly available
information:"

• users' names,
• profile photos,
• lists of friends,
• pages they are fans of,
• gender,
• geographic regions, and
• networks to which they belong.38

35. By default, Facebook discloses "publicly available information" to search engines, to
Internet users whether or not they use Facebook, and others. According to Facebook,
such information can be accessed by "every application and website, including those you
have not connected with . . . ."39

36. Prior to these changes, only the following items were mandatorily "publicly available
information:"

• a user's name and
• a user's network.