Robert Scoble just posed this question, "Someone just asked me if there's a good way to get a holistic look at Twitter or friendfeed followers. I don't know of any. Do you?"
He was talking about their geographical locations. Among the answers, one person pointed at a Yahoo Pipes application that puts pins (each corresponding to one follower) onto a world map. I've written about Yahoo Pipes before — it's a web service that lets you "visually" create an algorithm that reads RSS feeds and manipulates them. Pipes can filter, put together, count, limit and obviously do a lot more. I have created a Pipes application that filters several RSS feeds and then makes them available for insertion on a blog.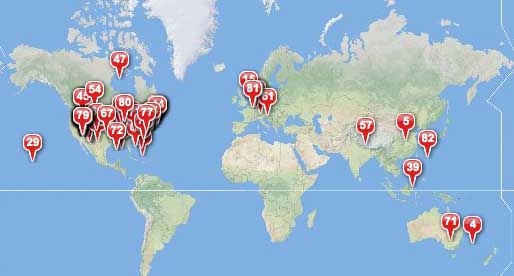 Robert has tens of thousands of followers, and is a heavy-duty user of social media (web and otherwise) services. We'll be in London in July with Traveling Geeks.
Here's what it came up with for my (first 100) followers: