| | |
| --- | --- |
| | |
| Yosemite — "Half Dome" — July 2007 | |
Ah, the halcyon days of summer end in a few days (northern hemisphere) and now it's time to chronicle all the fun we had. As I mentioned briefly in late July, we trekked about 65 miles (100+ km, with heavy packs) from Yosemite Valley down into Ansel Adams Wilderness where we spent the better part of two days, and then back over Red Peak Pass, which we had attempted unsuccessfully twice before (2003 and 2006 – bailed out because of too much snow remaining all summer long).
My neice, Merri, is down under (Australia, for a university semester) and being a suburban girl (Fairfax County VA) she is experiencing for the first time the wonders of the Great Barrier Reef, uncrowded beaches and scuba diving. How many of you are city folk? My annual summer treks into the Yosemite Wilderness help keep me fit and sane, and I would think that any city folk would want to do this too.
Rather than treat you to paragraph after paragraph of text, why not just look at the photos and accompanying commentary?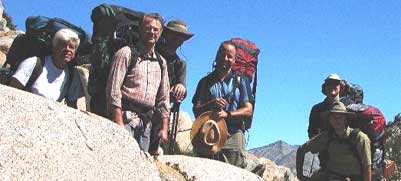 The Crew — July 2007 — That sun is really bright!