New from Dalai Lama Foundation Press: The most popular program of The Dalai Lama Foundation has been its study guides. Originally written by a group which met over a two-year period in Los Altos (California), the English-language study guide for His Holiness's book Ethics for the New Millennium has been downloaded from the Foundation's web site tens of thousands of times. The download, a PDF, can be read on screen or printed. Ethics for the New Millennium can be purchased separately, from your local bookseller or from one of many online sources. The guide has been translated into Portuguese, Spanish and Chinese. A Russian and a Japanese version of Ethics for the New Millennium are also available from the Foundation.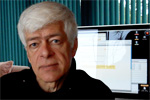 Now "The Dalai Lama Foundation Press" doesn't exist as a business entity, but de facto it exists because we are beginning to use lulu.com to demand-publish our titles. We upload a PDF of the body of the book, plus a small PDF of the cover, choose the binding types (saddle-stitch, paperback, and coil bound in our case) and bingo, it becomes available. It requires a specific PDF body and cover for each page size.
From the publisher's standpoint, one of the advantages of using Lulu is that we don't have to sign up for any minimum quantity. And there's no up-front design, promotion or manufacturing service we have to purchase either. Just upload the files and the books are available instantly.
The advantage to the customer is that books are printed quickly and shipped directly to the customer. Our 50+ page study guides cost between $8 and $9 depending on binding type. They're printed and shipped within a few days of ordering. Quantities of 24+ printed as a single order are discounted 25% or more.
I'm not trying to promote Lulu over any other service – there are many such print-on-demand online services and they offer different mixes of services and prices. Some are for those with less layout experience, providing design and editorial services. Some require that initial quantities be ordered but have more aggressive (lower) pricing. If you're considering self-publishing, look around at the available online services, because you can certainly find a service that will work for you.
[And in case you were asking "Why are we even publishing on paper any more?" the answer is that there are many places where paper copies are the only way to get something like this out into the community. So we gotta do it.]
---
Study Guide— Ethics for the New Millennium (in English)

Pocket size (approximately 4.25×7 inches)

Spiral bound, (lies flat, 8.5×11 inches)

Paper bound (saddle-stitch/staple 8.5×11 inches)

Study Guide— Discovering Ethics, a Study Guide for Inmates (in English)

Paper bound (saddle-stitch/staple 8.5×11 inches)

Spiral bound, (lies flat, 8.5×11 inches)

Ethics for the New Millennium

Ethics for the New Millennium must be purchased separately. Feel free to purchase from your favorite independent bookseller or online source.
(link to paperback at Amazon.com)