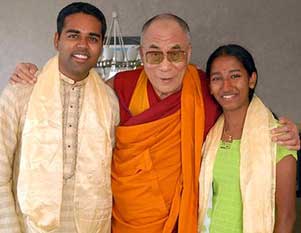 The first Dalai Lama scholars…
with the 14th Dalai Lama
The Dalai Lama Scholars program was envisioned by Vice Chancellor Manuel Gomez of the University of California at Irvine, and formed as an honorarium to His Holiness in conjunction with his appearance there in 2004. The Dalai Lama does not receive any payment for his appearances – instead, all net proceeds from tickets and other sales (after expenses) go to benefit appropriate causes and organizations. [UCI Juniors Rajiv Ramdeo and Aswathi Sreedharan, recipients of the inaugural scholarship 2006, are pictured here with the Dalai Lama.]

Lori Warmington was instrumental in the creation of the scholarships, and in this interview, she describes for us how they came about as well as what they're about.
---
Click the arrow to hear the interview:
Your browser does not support the audio tag.
---
The Dalai Lama Foundation featured the scholars in its March 2007 newsletter. The University describes the endowed scholarships on its web site. His Holiness gave two talks at the University of California Irvine, both of which are archived online (video/RealPlayer).