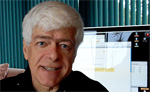 If you were to survey the Traveling Geeks this morning (Thursday before travel day) you'd be unlikely to hear many of us say "I'm packed and ready to go." But you would certainly hear all of us say "I'm excited and will really enjoy this trip!"
Yesterday a half dozen of us met up at Greens restaurant in Fort Mason (a decommissioned US Army base in SanFrancisco, used for troop/cargo ship departures during World War II, that was turned over for public use in 1974) to review the mobile internet devices (MIDs) that Intel is providing for the duration of the trip. We'll be bringing several of these with us, and sharing them around the group, so you'll get some reports on how well they work.

But, we're suffering the same stress that I think many bloggers suffer — namely, we are each working our "day job" and at the same time attempting to get everything lined up for the London trip. I have meetings until 1pm on the day I'm traveling, and then I go to the airport around 5pm for an overnight flight — and yes, I sleep on these flights — if it's dark outside the airplane, then my rule is that I sleep in order to adapt. But today some of us are still getting SIM cards into the Nokia phones and getting BTMobile data provisioned on those phones, and trying to take photos and movies and upload them to Ovi.com (Nokia) and MobyPicture and Flickr, and on and on.
In my case, I notice a change in behavior year by year. Today I surveyed what is ready for packing, and it is allmost all electronic gear and travel information. No clothes are even ready to be packed yet…they'll be the easy part. What is important is making sure I have the power adapters, plugs, external hard drives, cables, and the three Flip cameras that I will travel with so I can record the Backstage Pass interviews while we're on the road. I've written about being a cyber-nomad, and I definitely fall smack into the middle of that category. Every device I'm carrying has wi-fi, some have 3G data capabilities, and most of them can connect to each other. I am entirely portable and I've told my co-workers and clients that although there may be an 8-hour time difference, I will be online most of the time and available unless I'm in meetings.

Speaking of backstage, we now have all of the geeks equipped with Flip UltraHD cameras, and we have two professional cameraguys who will shoot footage – one of these being sponsored by Rackspace Building43.com and the other being provided locally in London. We have agreed to share all of our footage amongst ourselves, so I expect to see some pretty interesting shots, interviews, and to spend many many many hours viewing, logging and then editing, especially upon my return. While we're on the road we will be busy from 7am to 10pm every day, so there will be little time for editing. Instead, you can expect to see more "live" video and photos on-the-spot and less edited footage.
Keep watching the Traveling Geeks blog for links to photos and video!
---
Code of conduct and ethics
: Transportation and lodging on this trip are being sponsored by various commercial and governmental agencies (
see the geeks' disclosure page
), but we are journalists and have no obligation to report on any specific companies, products or services, nor will we allow sponsorship to influence our reporting. Any gear that sponsors give me will be donated to The Dalai Lama Foundation at the end of the trip. I am treating the sponsorships as if they were donations to the Foundation, since I also expect to conduct some interviews for my Many Paths to Peace series while I'm in London (and then Paris the next week). — Sky