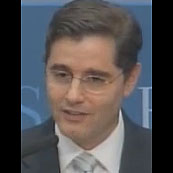 Craig Newmark put up a good article on his blog about Julius Genachowski's[1] position on net neutrality. I wrote a short article on it two days ago. Thanks, Craig, for mentioning OpenInternet.gov, where everyone can learn more about the issue. The full speech at the Brookings Institution is also available on OpenInternet.gov. The Internet, of course, is a world-wide resource, and not just a US institution, but the FCC regulates network operators in the US and the backbone connections that support huge portions of the net today, and what the FCC does on this issue is critical here as well as an example for the rest of the world.
Sometimes as tech fans and geeks we just assume that technology we invent will be used fairly and for the good of all. When I was inventing online learning (after a half dozen others had done it earlier—LOL) in the 1970s, I assumed that we were all working toward a common goal – making life and learning better and easier for everyone. Always surprises me when someone gains a patent on something like the process of pretest-prescribe-posttest[2], which we had been doing since at least the 1970s (and perhaps since B. F. Skinner experimented with computer-based teaching machines in 1954.
But the point is that unless we scrupulously protect open and even-handed access to the Internet, and don't allow anyone to corner the net and deny us access unless we pay more, we could end up with the same kinds of fees we now see for our telephone service (it hasn't gotten cheaper for me in all the years I've had phones—it seems to go up every time I change providers). Take a look at Genachowski's talk and you'll see why I think there's greater hope now for the net.
---
[1] Julius Genachowski, Chairman of the Federal Communications Commission
[2] Interactive learning system with pretest
Craig Newmark is Founder and Customer Support Rep for Craig's List.